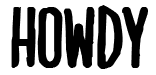 Welcome to Old Bitchin Cat Boots, a.k.a. OBC, where we will work with you to design and custom fit your personal boot, shoe, or industry prototype. Let's get creative, pardner.

OBC is a Brooklyn based custom shoe design and construction company located in Coney Island. Our resident shoe maker, Edie "Vaquero" Kudlis (aka Fast Edie) hand designs shoes, boots and other leather goods according to your preferences.
It's all about you

Here at OBC, we understand customer service is number one. Like most small businesses, we thrive on good reviews and pay close attention to customer requests and desires. Of course, we do our best to please you but we will also give you an honest response if there's something that cannot be done (i.e. if you want 7 inch Lady Gaga shoes with Swarovski crystals encrusted in a platinum heel and a Nike swoosh on the side - we'll probably say "Sorry homie. No can do"). Honesty is our best policy.
Big up to the local economy

In an effort to boost the NYC (and U.S. hopefully) economy, we hand select our materials and equipment from local and U.S.A made manufacturers.




* A percentage of our proceeds go to benefit animal leagues